The humble burger is a food trend that will never die.
It's a fast food tradition that's been taken to new heights over recent years, with everyone from fancy restaurants to trendy street food trucks putting their own spin on the culinary classic. 
But with so much choice out there, especially in the UK's capital, it can be hard to know where to get the best bang for your buck – which is why we are here to help! Sink your teeth into our list of top 10 favourites combining the best of beef, chicken, fish and veggie burgers alike, and celebrate the magic that happens when patty meets bun.
The Timmy Burger –
Timmy Green
11 Sir Simon Milton Square, Westminster, London SW1E 5DJ, UK – +44 20 3019 7404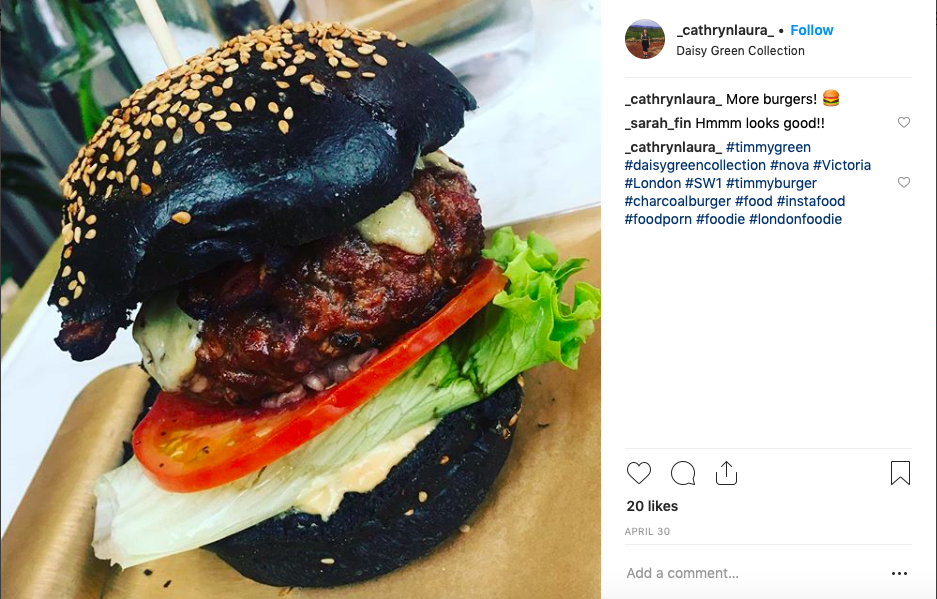 Lo and behold! Australian inspired restaurant Timmy Green's succulent 8oz prime beef patty wedged between an activated charcoal bun! Served with a zesty chilli pineapple salsa and a side of duck fat fries, this is a burger that will meet all of your expectations. Don't fancy the charcoal bun? Swap it for their healthier avocado bun option instead!
The Mac Daddy –
Dirty Bones
20 Kensington Church Street, Kensington, London W8 4EP, UK – +44 20 3019 9061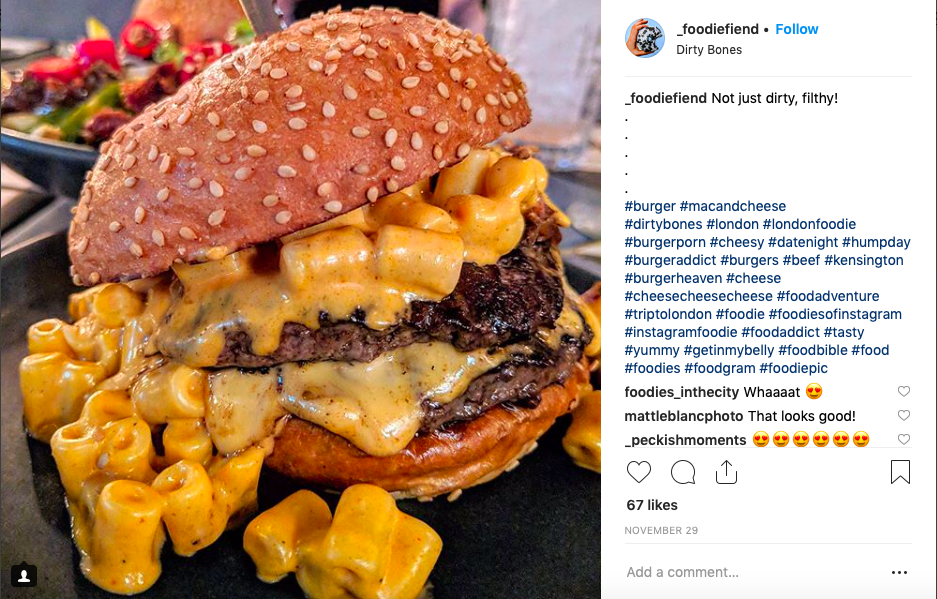 The Mac Daddy is set to satisfy all your American food cravings. Mouth-watering steak topped with pulled short rib, a generous dollop of mac 'n' cheese, and a tangy onion and ale chutney – what more could you ask for? A true Dirty Bones delicacy, this delectable burger combines all your dirty pleasures in one!
The Fish and Chips Burger
Burger Craft
41-42 Cosser St, Waterloo, London SE1 7BU, UK – +44 20 7928 0720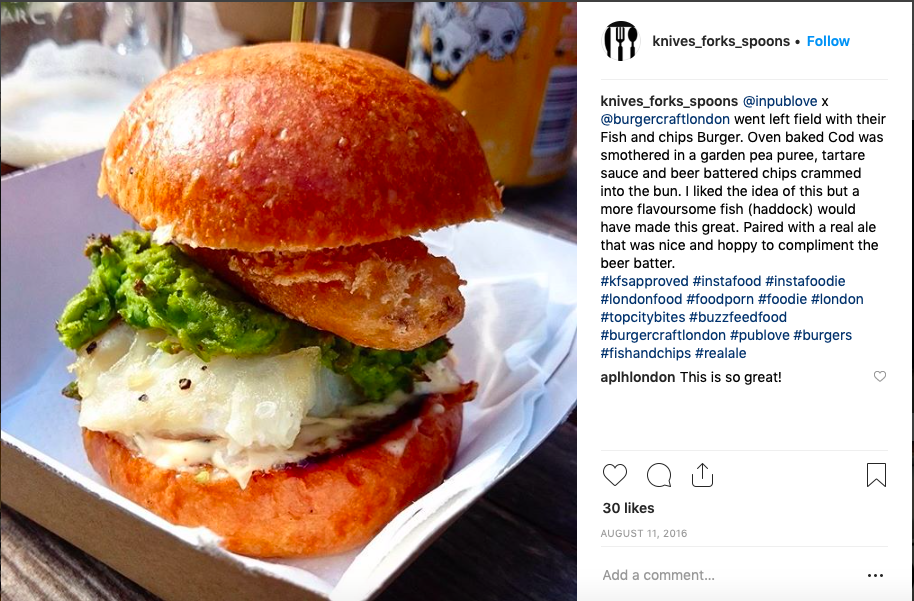 For those of you who are looking for a piscatorial alternative to this classic sandwich, The Fish and Chips Burger delivers a flavour punch that will melt in your mouth. The perfect combination of oven baked cod, beer battered chips, garden pea puree and tartare sauce, all thrown together on a burger bun. Two pub classics in one!
Smokey Robinson
Patty & Bun
14 Pembridge Rd, Notting Hill, London W11 3HL, UK – +44 20 7229 2228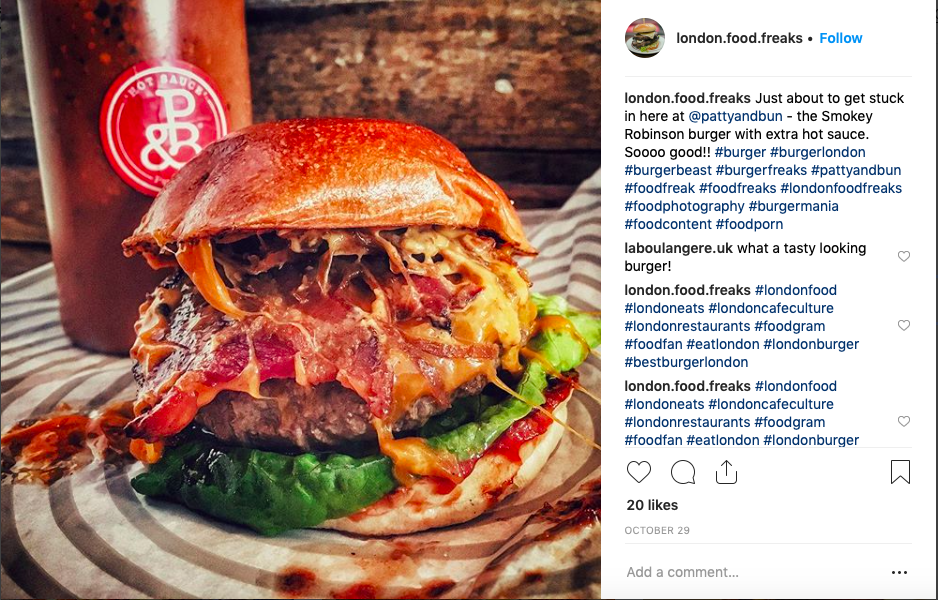 Well known for their delectable homemade mayo and relish, P&B do not disappoint with their latest contribution to the burger world. Mounds of caramelised onions, smoky bacon rashers and a juicy beef patty on a brioche bun – this may be one of London's finest. Expect to be queuing at the door!
Cheeseburger Toastie
Honest Burger
84 Brewer St, Piccadilly, London W1F 9UB, UK – +44 20 3146 0065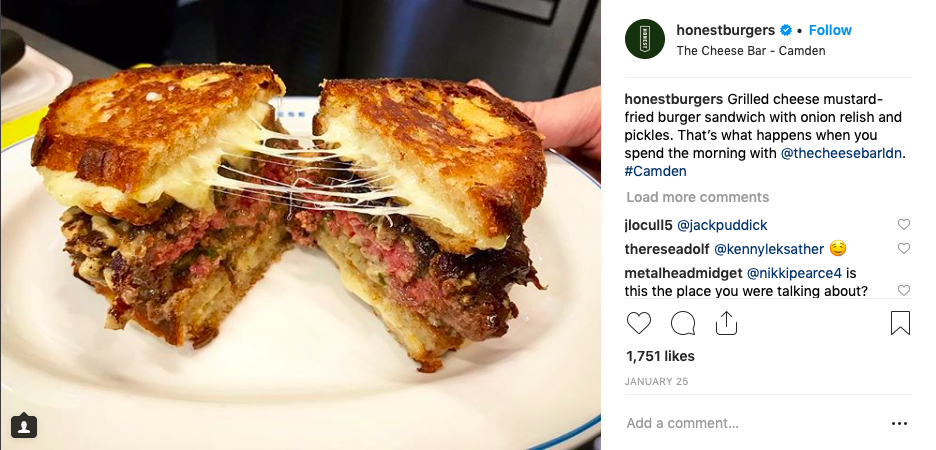 This sandwich takes Sunday brunching to a whole new level. Mustard fried beef patty with pickles & American cheese, all between two layers of cheddar and gruyere toastie and slathered in beef and bacon gravy. This saucy sandwich creation is the perfect hangover cure after a big night out in the city!
Dirty Cop-Out
Dirty Burger
54, Arches, 6 S Lambeth Rd, London SW8 1SS, UK – +44 20 7074 1444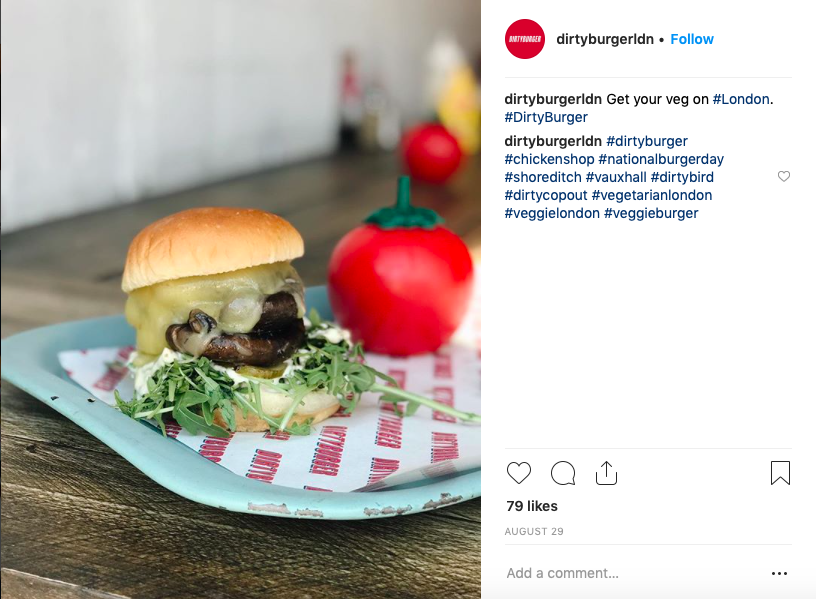 One for the veggies out there that is sure not to disappoint! A juicy portobello mushroom smothered in tarragon mayo, layers of smoked applewood cheese and crunchy rocket all come together to create this tasty veggie delicacy. We'd even say it's just as good as their other meaty options on the menu, and healthier too! Well, kind of healthier…
K-POP
Chick 'n' Sours
62 Upper St, Islington, London N1 0NY , UK – +44 20 7704 9013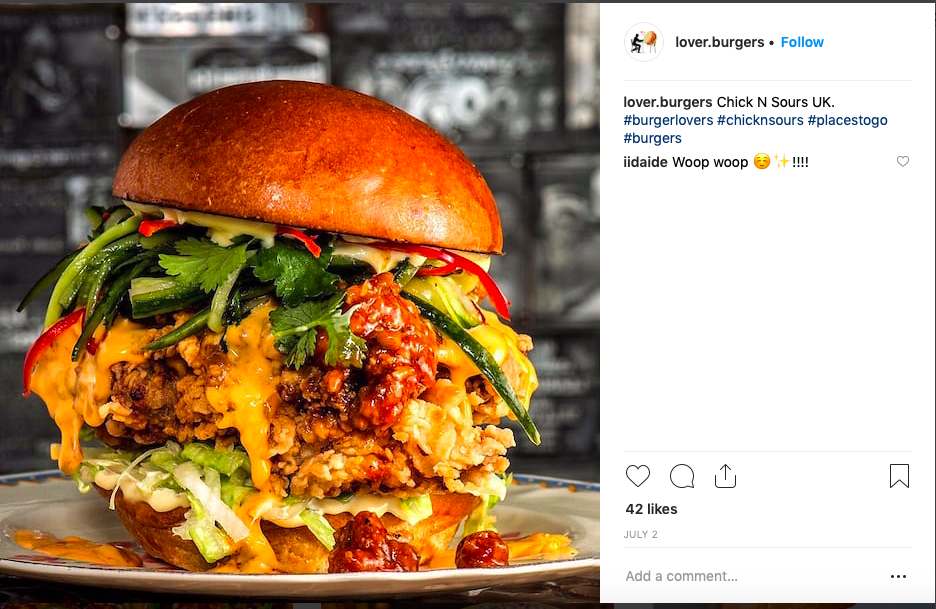 This Korean inspired fried chicken shop serves up some of the best chicken burgers in town! Our favourite is the K-POP burger, featuring succulent buttermilk fried chicken thigh, sriracha sour cream and Asian slaw. Be sure to try their chicken toast (just like prawn toast, but chicken) and their popcorn chicken while you're there – the sides are almost as good as the burgers!
SmokeShack
Shake Shack
24 Market Building, The Piazza, Covent Garden, London WC2E 8RD – +44 19 2355 5129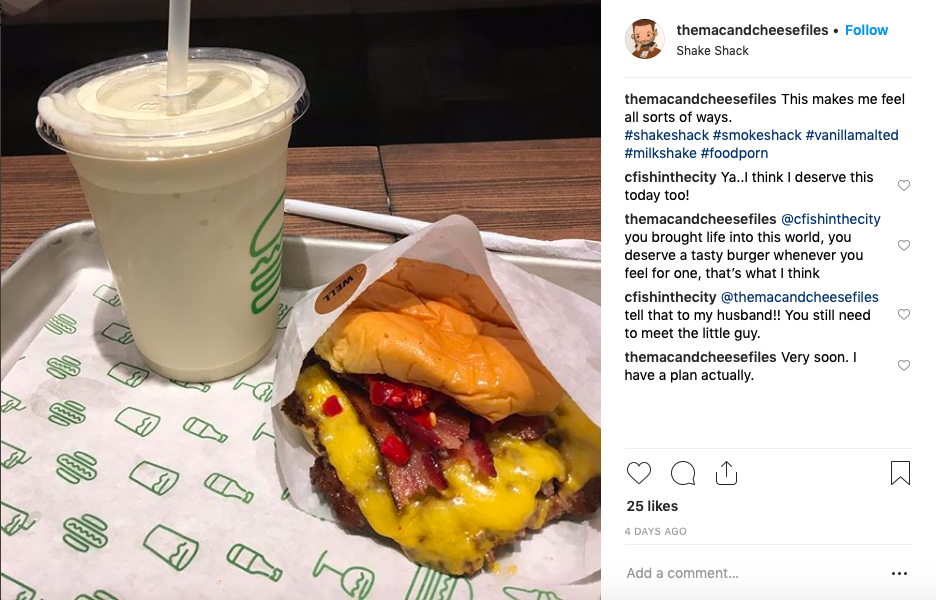 For those of you craving a greasy all-American feed, look no further! The Shake Shack's signature burger, the 'SmokeShack' is a cheeseburger, topped with Applewood smoked bacon, piquant peppers and creamy sweet and sour ShakesShack sauce – yum! True to their name, they also have some of the best milkshakes in London! Our favourite is the malted chocolate shake.
Belly Connection
Tongue 'N Cheek
Camden Lock Pl, Camden Town, London NW1 8AF, UK – +44 20 3763 9900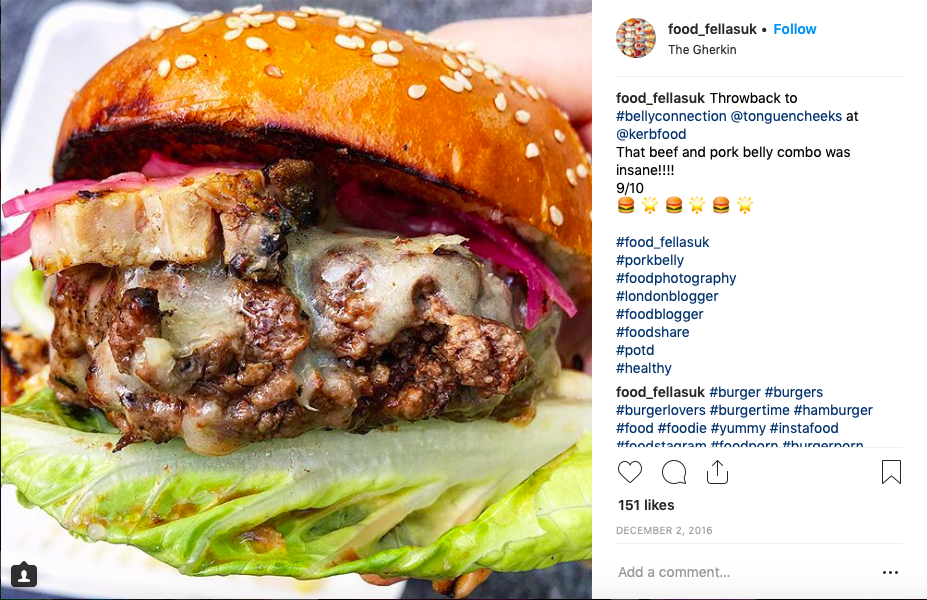 Our favourites, Tongue 'N Cheek, are serving up some incredible Italian inspired burger concoctions, such as the Belly Connection. A dry-aged beef patty served on top of juicy pork belly, gooey gorgonzola, pickled red onions and pimiento mayo. Find them in the Camden Markets – and be quick! They almost always sell out.
Chicken Parma Burger
Meat Liquor
74 Welbeck Street, London W1G 0BA, UK – +44 20 7224 4239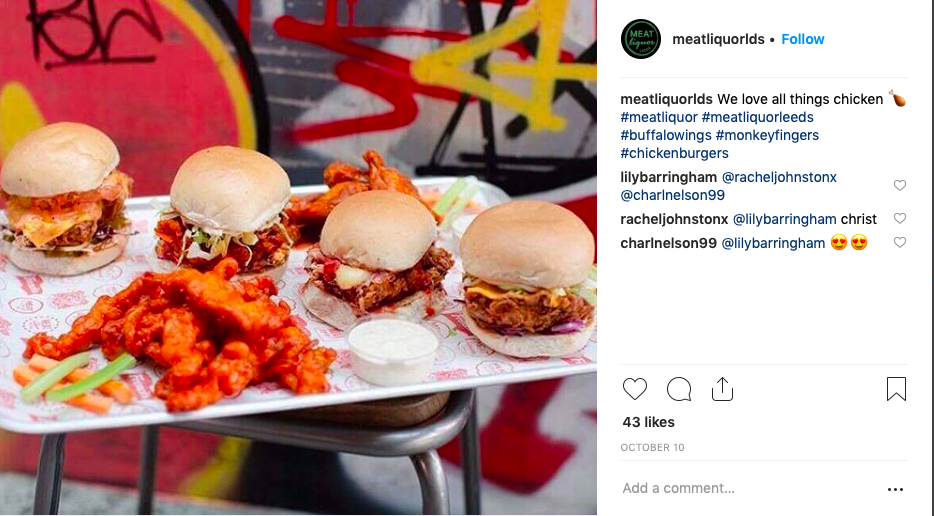 An Australian pub classic meets burger – fried chicken fillet with Serrano ham, melted mozzarella and marinara sauce all wedged between a fluffy brioche burger bun. Be sure to try a side of their fried pickles with blue cheese sauce, or a piping hot serving of hash browns – they're to die for!
---